Fastime 21 100 Lap Memory 3 display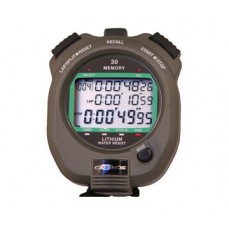 Product Code:
FAST21
Availability:
In Stock
Price: £28.54
Ex Tax: £23.78
Fastime 21 Professional Multifunction Stopwatch
Part No: FAST21
Unit of Sale: 1
Fastime 21 Stopwatch
• 100 lap triple display stopwatch with the following functions:
• Stopwatch, Repeating Countdown Timer, Pacer,Time of Day and date, Alarm.
• Water resistant case with a 1 year warranty.
Stopwatch:
• Measures to 9hrs 59mins 59 secs 99/100th sec.
• Triple display shows:Cumulative split and Lap split times to the previous split taken.
• Bottom display shows cumulative running time. Lap number is also shown.
• Up to 100 cumulative and lap split times can be stored in memory. With fastest, slowest
and average lap times shown.
• Time out (start,stop,resume) function is also included.
Repeating Countdown Timer:
• Maximum setting 9hrs 59min 59sec.
• The display shows the target time, the counting down time and the number of repeat
counts.
• The timer counts in 1/100th second.
Pacer:
• The pacer value can be adjusted between 10 and 320 counts per minute.
• The display shows the target count per minute.
• Use this function to set and measure a required number of actions per minute.
• Pressing the split button increases the target time per minute.
Time of Day/Date:
• Shows time of day (12 or 24 hour display option), date month and year.
Alarm:
• Shows Alarm set time, date month and year.
• Weight: 0.110kg
• Replacement Battery (CR2032) available.
---
Collect in Store available
Write a review
Your Name:
Your Review:
Note: HTML is not translated!
Rating:
Bad
Good
Enter the code in the box below: